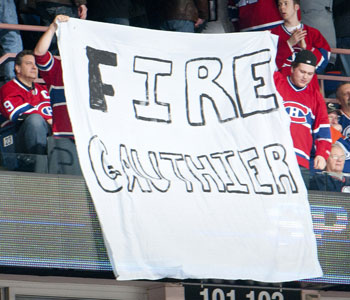 According to Darren Dreger of TSN, the Montreal Canadiens have fired general manager Pierre Gauthier. We know what you're thinking, "it's abooot damn time."
Well you won't find an argument here. The Canadiens, who have been the laughing stock of the league this season, have made a number of controversial decisions under Gauthier's leadership in recent months. At this point, one would've expected Montreal to wait until the season had concluded to make this move.
Oh by the way, in the mean time the Canadiens have plummetted down the standings, sitting at a modest 28th overall and have focused all their attention to the NHL Draft Lottery, which they'll surely be a part of.
First, after a rough start to the season, Gauthier relieved assistant coach Perry Pearn of his duties just three weeks into the season prior to the team's morning skate in preparation for their October 26 game against Philadelphia. Claiming he didn't want to blame anyone in particular, Gauthier made Pearn the fall guy, when the problem was far bigger than that.
Keeping the theme of game-day firings alive, he parted ways with embattled coach Jacques Martin on December 17, making Martin the sixth head coach to be fired around the league before Christmas. Assistant coach Randy Cunneyworth took over, without his Rosetta Stone for the time being, and was wildly unpopular with the media thanks to his inability to speak French.
Then came the most shocking of moves, just a few weeks into the new year, as he pulled winger Mike Cammalleri off the bench in the midst of a game against the arch-rival Boston Bruins and shipped him to Calgary in return for Rene Bourque.
Cammalleri was told that he was traded, but not to where, and was to undress and report back to the team hotel for further instruction. How do you not tell a player where he's headed?
Now the attention turns to who will be faced with the task of righting this ship. According to the Canadiens, they've already begun their search for Gauthier's successor. While a quick resolution may not be coming, rest assured the Habs will do their due diligence with regards to finding the right fit. Whoever they select, you can bet they won't be making any rash game-day decisions, be it a trade or otherwise.
NBC Sports analyst (and two-time Stanley Cup champion as a scout and assistant coach with Pittsburgh in the early 90s) Pierre McGuire seems to be the first name that has been connected with the job. While McGuire has fended off rumors that he was headed to Ottawa to replace Bryan Murray earlier this season, it remains to be seen if he'd be interested in taking over in Montreal.
In the mean time, chin up Montreal fans. The worst is almost over. After this season, the Canadiens will enjoy debating who to take with one of the top picks in the 2012 NHL Draft. The potential list of players available when they are slated to pick includes of Mikael Grigorenko, Ryan Murray, Matthew Dumba or Filip Forsberg. Any of these players could potentially step in and contribute to the team as early as next season.
With stud defensemen Nathan Beaulieu (17th overall, 2011) and Jarred Tinordi (22th overall, 2010) in the pipeline, expect the Canadiens to strike for an impact forward and go with either Grigorenko or Forsberg. Seeing either of those high-octane talents could be enough to help Habs fans forget about the Gauthier regime altogether.