Isles Scratch Niederreiter Again; New York Media Shrugs Collective Shoulders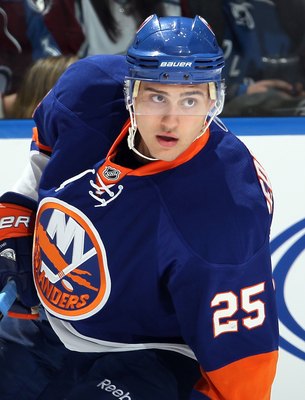 The Islanders are taking on the Pittsburgh Penguins at the CONSOL Energy Center tonight and are doing so without the services of 2010 fifth overall selection, Nino Niederreiter, for the second straight game.
No Niederreiter isn't hurt, but rather wasting away in a suite high above the ice hanging out with us healthy scratches. This isn't new to the Isles rookie, who also had the best seat in the house for four consecutive games earlier this year. When he does play, he averages under 10 minutes of ice time per game. So someone remind us again, why wasn't this kid sent back to junior hockey?
Yes, the way the Islanders have handled one of their best young talents to this point has been awfully confusing. But what's more baffling is how little we've read about it. Hey New York media, feel like doing your jobs?
Now granted, nobody's saying New York is a "hockey city" by any means. The NHL has to jockey for position on the back page with the likes of the Super Bowl Champions, Tim Tebow and Linsanity, and that's just in the past six weeks.
Even if the Rangers (who by the way have been leading the Eastern Conference for the majority of the season) went on a lengthy playoff run that culminated with their first Stanley Cup since 1994, there would be more of a buzz about what Alex Rodriguez had for breakfast.
So take the whittled down hockey coverage and prepare to divide it up unevenly among the three New York-area teams. Obviously when two of those three are in the thick of the playoff race, the Islanders will fall further down the proverbal totem pole. But this team does have voices. So besides basic game recaps which have the reading level of a fourth-grader, what is there time to talk about?
Oh, I don't know, maybe you can harp on the Islanders' arena problems for the umpteenth time. I heard there was a bit of news on that front that amounts to absolutely nothing new. But by all means continue acting as if it's the only story worth writing.
Not one writer, not Newsday's Arthur Staple, Katie Strang of ESPN New York (granted she covers all three teams now so she gets a pass) nor any of the fans-turned-journalists in the Islanders "Blog Box" have had either the hockey knowledge or gumption to inquire as to why the organization's top talent has had his career tarnished to this point.
None of the league-wide writers such as Jesse Spector, Greg Wyshynski, James Mirtle or Joe Yerdon have spent much time on the team, because they've got enough on their plate as it is. This isn't an indictment of their work, by any means.
Staple stated all the facts in a March 3 column, but never pressed general manager Garth Snow on the matter of keeping El Nino away from junior hockey, where he would've undoubtedly had another dominant season and gained some valuable playoff experience.
That's as critical as anyone has gotten this season. Don't waste your time, it's not much. You could argue that the sports media does have a Woodward & Bernstein-like purpose, to keep organizations honest, and make them answer for unpopular decisions. That is where the media has failed the fans. There is zero accountability for anything hockey-related. Ironically, that sentiment seems to have trickled down to the locker room, where they continue to search for answers.
Now, let's go through those facts again and try to dissect this as much as possible. Nino Niederreiter is still just 19 years old. That makes him too young to play for the Bridgeport Sound Tigers, the team's American Hockey League affiliate. The Islanders knew that coming into the year, that it was either the stay with the big team or head back to junior hockey. After a brief nine-game stint with the team last year and a stellar season for the Portland Winterhawks of the Western Hockey League (41 goals in 55 games), Snow was convinced the Swiss forward was ready for the jump to the NHL. Makes sense, right?
Heading into the season, Niederreiter was slated to ride shotgun alongside John Tavares and Matt Moulson on the team's top scoring line. Then the injury bug crept into the picture. In the second-to-last game of the preseason, Niederreiter suffered a groin injury that kept him out of the lineup through the season's first month. Upon returning, he suffered a concussion that cost him another month.
The lack of playing time and injuries have tried the prospect's patience, which has slowly whittled down over the course of a frustrating season.
"Everybody says you gotta look at the big picture, but that's not me," Niederreiter told reporters earlier this month. "I'm in the moment, I'm trying to do my best right now to play and help the team win, so when I find out I'm not playing, I can't be happy. I'm pissed off that I can't play."
In the 55 games he has played in this season, he's rarely been used in a scoring role by bumbling idiot Fred Flinstone head coach Jack Capuano. Nobody's claiming that he's done right by the kid. Ask any Islanders fan, they'll offer you part of their next paycheck to take him out.
He's scored just one goal all season. Yep, you read that right. One. As if that wasn't bad enough, he's also a -24. Ready for the NHL, indeed. It's almost as if the organization has gone out of their way to interrupt the development of one of their top prospects. Party on, Garth.
In late December, the team was given the option to send him to the U-20 World Junior Championships, where he would play on a line with 2011 Flames first-rounder Sven Baertschi for Switzerland (who oh by the way would've also been his teammate at Portland), or stay with the organization. For some reason, Snow, Capuano & co. decided not to send him to Calgary. He was scratched for the next two games while the Swiss were eliminated.
Fun fact: Baertschi was recalled earlier this month on an emergency basis. In five games, he had three goals before being returned to the WHL. It served as salt in the wound for anyone on Long Island keen enough to notice.
So here we are, on March 28, watching the final games of the first year on Niederreiter's three-year entry-level contract. Where has this year gone with regards to their big, young winger? That would make a pretty enticing question for Capuano and Snow to answer.
Well how come nobody's asked it? Are they afraid of being blacklisted by the Islanders, a la Chris Botta?
That must be part of it, at least for the Blog Box, who does a good job of keeping fans up on team news while not rocking the boat. In fact, Bloguin's own Christian Arnold, founder of Islanders Hockey Blog, is by far the best of the bunch. But given the lack of positive news coming from the organization both on and off the ice, it's amazing that you don't see more criticism of the team's practices, especially when it comes to personnel decisions.
Have they issued an unwritten gag order on all things negative? Probably not. The performance from the press box just seems to be worse than the one on the ice below. See, told you it was pretty bad.