Zidlicky, Wolski on the Move; Hemsky Staying Put
The 2012 trade deadline is finally starting to pick up some steam. On the heals of Jeff Carter moving to the West Coast, both Marek Zidlicky and Wojtek Wolski have also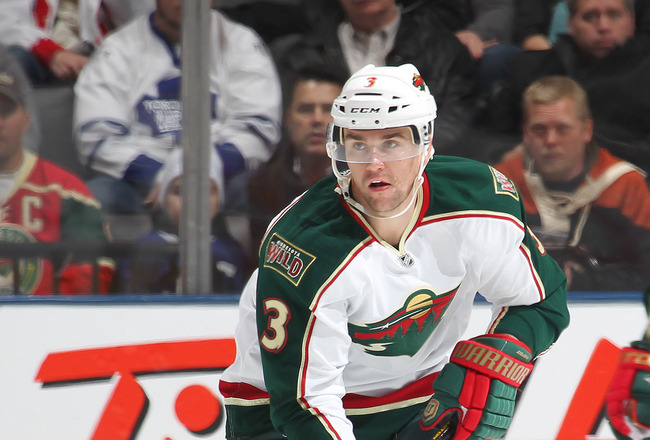 changed addresses.
The Devils announced the acquisition of the veteran defenseman Zidlicky, prior to last night's contest against the Canucks. In exchange for the shifty blue-liner, the Devils sent defensemen Kurtis Foster, forwards Stephane Veilleux, Nick Palmieri, a second-round pick this year's draft and a conditional third-round pick in 2013.
Considering how Zidlicky had talked his way out of Minnesota, that's a pretty decent haul for Wild general manager Chuck Fletcher.
Veilleux and Foster will be making their second tour in Minnesota, as Veilleux was the Wild's third-round selection in 2001, while Foster spent parts of four seasons with the team.
Palmieri, much like Zidlicky, fell out of favor with his coach and is set to be a restricted free agent this summer. However, Palmieri possesses the upside to sway this deal heavily in the favor of the Wild, who after all, were very limited with the aging/disgruntled Zidlicky heading into the trade deadline.
The Edmonton Oilers also made headlines Friday, as they announced the contract extension of Ales Hemsky. The 28-year-old winger inked his name to a two-year, $10 million contract, in lieu of testing out the free-agent waters this summer. The former first-round pick has been plagued by injuries the past few years, and is suffering from an uncharacteristically down year as far as offensive production is concerned, yet the Oilers are hoping he could return to his form from season's past.
Even though he's only a few seasons removed from 70- and 60-point campaigns, some believe $5 million a year for Hemsky is a joke.
The New York Rangers also made headlines earlier this morning, as they announced a huge trade: Wojtek Wolski has been sent to the Florida Panthers for minor-leaguer defenseman Mike Vernace and a 2013 third-round pick.
It was remarkable that Rangers GM Glen Sather was able to get anything for Wolski, who has appeared in only nine games this season for the Rangers, after his season was hampered by both injuries and uselessness. Since returning from sports hernia surgery on Jan. 12, Wolski has only played in three games, as he hasn't exactly found coach John Tortorella's good side.
This deal is a win-win for both the Panthers and Rangers.
The Rangers cleared much needed cap space, shedding Wolski's $3.8 million contract and adding a decent draft selection, and the Panthers found themselves a viable offense weapon heading into the playoff stretch.
This is the third time Wolski has been involved in a deadline deal, providing an offensive punch in each of the previous deals.
Check back throughout the day, as we will be updating our page as the trades continue to roll in.