The Three Stars of HBO's 24/7 Road To The Winter Classic: Episode III
Each week, the THS staff will select the three stars of each airing of HBO's 24/7: Road to the Winter Classic.
The third installment of HBO's "24/7 Flyers-Rangers: Road to the Winter Classic" showed us the triumphant return of Claude Giroux to the Philadelphia lineup, both teams gearing up for the Holiday season at home and with each other, the many faces of Ilya Bryzgalov and a closer look at how Steve Ott can sound like a bumbling idiot.
Once again, there were quite a few worthy of a three-star selections, but we can only honor so many. Here are Tonight's Healthy Scratches' Three Stars of 24/7: Road to the Winter Classic:
No. 3: Brad Richards-C, New York Rangers
The Rangers prized free agent signing has been paying dividends daily since arriving in July. Richards, who was named an assistant captain before ever playing a game with New York, has certainly lived up to the title both on and off the ice.
While he's provided the Blueshirts with some much needed scoring depth, he's also served as a profound influence on a number of the organization's young players, especially defenseman Michael Del Zotto. We touched on Richards' positive effect on Del Zotto late last week, but you got to hear it from the defenseman and head coach John Tortorella again on this week's show.
One thing we hadn't heard from Richards before was his engagement into the chirping between benches. With no Sean Avery manning his familiar post near the opposing bench, Richards fired back the best line of the episode when Tom Sestito threatened to "knock out every one of you."
"One day in the NHL, it's a fantasy camp," he said. "This is a fantasy camp for you!"
There was no coming back from that for Sestito, who has a whopping four career NHL points.
No. 2: Brian Boyle-C, New York Rangers
It'll come as no surprise to Rangers fans that Brian "Buddy the Elf" Boyle makes his Tonight's Healthy Scratches debut after his perfomance on tonight's show. After a 21-goal campaign in 2010-11, Boyle has managed to find the net only twice this season.
On the ice, Boyle is a prototypical hard-working player, fitted to the mold of John Tortorella's style, albeit perhaps slightly taller. But HBO has given us a look at Boyle letting loose, including two instances in this week's episode.
Boyle, who's always made his money as a sound penalty killer and defensively responsible center, endeared himself to fans of the Will Ferrell holiday classic by dressing up as Buddy the Elf at the Rangers Christmas Party at Brad Richards' apartment. By the way, HBO, where was Olivia Munn?
He was the life of the party, joking about how Ryan McDonagh couldn't reach into the pockets of his "Sports Illustrated Swimsuit edition painted-on jeans."
We got a second glimpse into Brian Boyle the person when HBO took us inside his family's home for Christmas dinner. Boyle is one of 13 children, and it was interesting to hear him brag about his siblings a bit, saying that he stays humble when he returns home. Even when he's with the team, though, that seems to be his style, whether he's scoring 20 goals or two.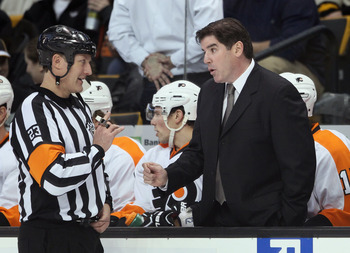 No. 1: Peter Laviolette-Head Coach, Philadelphia Flyers
If you watched tonight's episode and had any doubt about who we'd pick as the number one star, well then you just don't know us very well. The show began with a tirade in the visitors locker room of the Pepsi Center with his team down a goal to the Colorado Avalanche. That tirade lit a fire under his team, producing a high-tempo period that resulted in the Flyers tying the game and earning a point in a shootout loss.
Of course, a decent portion of the episode was also dominated by his exchange with Stars center Steve Ott after the first period of a game in Dallas.
When questioned by the media after the game about the alleged-and-later-confirmed shove of Ott, not to mention the choice words about what he could do with himself, Laviolette played dumb to the point where he couldn't even hold back a smile.
"Um, I can't remember what you're talking about, but what a big win tonight," he said as he walked away laughing.
While some will undoubtedly focus on his penchant for swearing, ignoring the short, concise talks he gives his team in crucial situations, Laviolette oozes with the confidence of a former Stanley Cup champion. Much like Tortorella, he's a guy you'd love to play for. And if he tells his team to play with some "______ jam" one more time, I might just strap on some skates and go hit somebody myself.
No-Star Selection: Steve Ott-C, Dallas Stars
In addition to highlighting some of the stars on the Rangers and Flyers, HBO allowed Stars center Steve Ott to make a mockery of himself not once, but twice in this week's episode as well.
When Giroux simply asked him if he was taking the draw against him, Ott took it as a slight and told the Flyers star to "check NHL.com," citing that he was fifth in the league in faceoff percentage. He then told Giroux "I'm pretty good, so I'm probably going to win this one right here."
Giroux smiled, and then won it cleanly back to defenseman Kimmo Timonen. He also scored to tie the game later on that shift. For all those wondering, Steve Ott is currently 10th in the NHL in Faceoff Percentage and has won 86 less draws than Giroux.
Then came the exchange where he cut of Laviolette, demanding that he "show some class" and allow his team to exit the area behind the benches after the first period. Laviolette declined, and moved the faux-enforcer out of his way via a stiff arm. In a 15 minute span, Ott managed to get embarrassed by the Flyers leading scorer and head coach. Not too shabby.
Agree? Disagree? Have a better idea? Tell us in the comments! Be sure to tune in for the final episode of HBO's 24/7: Flyers-Rangers Road to the Winter Classic next Wednesday, January 4 at 10 p.m. and then check back for the final installment of The Three Stars of 24/7.

As Mike clearly pointed out, tonight's episode featured several hilarious one-liners. Be sure to check out our Facebook page and weigh in on which one-liner was the best of the night! Vote here: http://tinyurl.com/cguyy84